Searching for a new business location? Consider Consolidated territory in central Ohio.
Economic incentives and business support programs help build a strong foundation for success. Our proximity to Columbus, Ohio's state capital and the largest metropolitan city in Ohio, as well as numerous public and private universities, provides a strong, well-educated employee base, excellent air and land transportation facilities, and a competitively priced utility market to support profitability.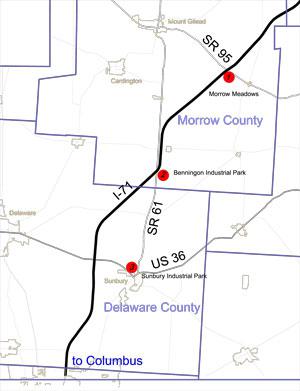 Morrow County
Just 21 miles north of Columbus lies three premier development sites including Bennington Industrial Park, Cardinal Commerce Center, and Rock's Edge. These sites provide hundreds of developable acres in multiple parcels with close interstate access. All sites have electric, natural gas, fiber, and water and sewer services available. The link below provides search access to all the available properties in Morrow County. https://www.developmorrow.com/Property-Search.html
Delaware County
Delaware County is one of the 15 fastest growing counties in the U.S. Located just north of Columbus, the county presents a diverse economic base, including industry, retail, agriculture, higher education, and service establishments. Consider the Sunbury Industrial Park, located just three miles east of I-71 and 12 miles north of Columbus. The link below provides search access to all the available properties in Delaware County https://economicdevelopment.co.delaware.oh.us/find-properties/
Delaware City
Delaware City is at the center of one of the fastest growing counties in Central Ohio. With a diverse and educated workforce there are great opportunities to build your business. The 500 plus acre industrial park is located on major state highways, with access to a 5,800-foot runway at The Delaware Municipal Airport Jim Moore Field. Other greenfield opportunities on the eastern entrance to the city provides utility and transportation access for business growth. The link below provides search access to all the available properties in Delaware City. http://www.delawaremeansbusiness.com/propertysearch
Knox County, Fredericktown
Fredericktown has an established industrial park with "shovel-ready" sites; an abundant water supply, utilities including fiber optic access, and a central location with easy access to Interstate 71 via State Routes 95 and 13. Knox County: http://knoxadf.com/real-estate/
Find more state and local resources that can help inform your decision of where to locate your business.