Searching for a new business location? Consider Delaware and Morrow counties in central Ohio.
Economic incentives and business support programs help build a strong foundation for success. Our proximity to Columbus, Ohio's state capital and the largest metropolitan city in Ohio, as well as numerous public and private universities, provides a strong, well-educated employee base, excellent air and land transportation facilities, and a competitively priced utility market to support profitability.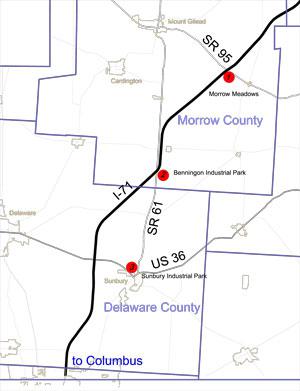 Morrow County
Just 21 miles north of Columbus lies Bennington Industrial Park (2), which offers 300 acres with electric, natural gas, water and sewer services on site. And further north lies Morrow Meadows Commercial/Industrial Park (1), with about 200 acres of prime development land also adjacent to I-71.
Delaware County
Delaware County is one of the 15 fastest growing counties in the U.S. Located just north of Columbus, the county presents a diverse economic base, including industry, retail, agriculture, higher education and service establishments. Consider the Sunbury Industrial Park (3), located just three miles east of I-71 and 12 miles north of Columbus.
Find more state and local resources that can help inform your business location.
Revolving Loan Fund
Consolidated Electric Cooperatives also offers a revolving loan fund, which can help you obtain low-interest business development loans to help your company and our community grow. Eligible projects include:
Industrial/commercial development
Small business expansion
Small business start-up
Business incubators
Community infrastructure
Community facilities
For more information, contact Consolidated's business development specialists:
Brad Ebersole (Delaware office)
(800) 421-5863
Dan Boysel (Mt. Gilead)
(800) 421-5863